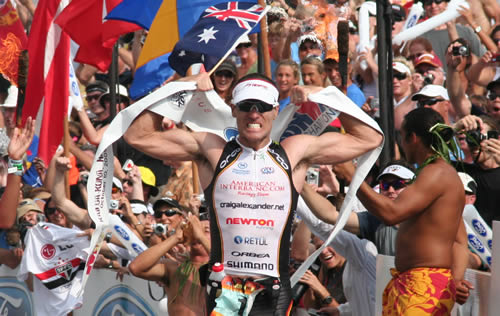 The island of Kona Hawaii is home to the IronMan Triathlon World Championship, and only one person can swim through the warm tropical ocean, bike along the scorched black lava fields on the Queen Ka'ahumanu Highway, and run down the spectator packed road to the finish line, and win.  In three of the last four years that person has been Craig Alexander.
The native Australian burst onto the IronMan scene with three wins in his first five years participating in the race, and has become a legend setting a new course record last year. What is the difference between Alexander and the other thousands of competitors on the IronMan world stage?  "Everyone is doing a similar training program. The difference is what is going on between the ears," said Alexander about what he believes is his advantage—his mind.
The mentality of an IronMan triathlete is special.  To be able to dedicate so much time and effort to training requires a strong mentality.  What type of mentality does Craig Alexander have to separate himself from the others? A fearless one.
Motivation
Love propelled Alexander to become a professional triathlete.  He explains about the importance of love, "If you find something you love to do you're going to work at it and its not going to feel like work."  The motivation that drives Alexander is not to beat another person, it is not to make money, it is not to be famous, it is about love and in Alexander's own words, "it's not just about winning… it's about perfecting performance."  Alexander has been able to consistently improve even after winning the World Championships because he is focused on his performance and on the task at hand.
Anxiety
There are not many things that can be more nerve racking than waiting at the start line for a 140.6 mile race. Not to mention the eleven months of preparation, and the fierce competitors that all have their eye on you.  To fight anxiety Alexander keeps his mind focused on his own performance and not on others. "All you have to race against and to judge yourself against is yourself. It's that pursuit of excellence." Focusing on himself keeps his mind attentive on the present and what he can control.  Because of this mentality Alexander becomes fearless and can open his mind to concentrate on what matters most—the task at hand. "Some things are out of your control. You don't want to burn precious energy worrying about it… If your thoughts are positive that flows onto the way you feel, and then the way you act, and you act it out."
Concentration
A deep concentration on the right things does not only go into the day of competition but also in Alexander's training. In regard to training he said, "Ever session has to have a purpose or it has no purpose."  Every day of training will have a specific goal.  Alexander has learned to push himself and his training by setting daily objectives that stretch his ability but don't stress him.  Because a triathlon is a three part sport balance is just as important as hard work.  "Sport is a physical pursuit but it is also a mental pursuit," says Alexander.
Confidence
To be an elite performer Alexander has developed a high amount of confidence in himself and his abilities.  "Rather than saying "why me?" Say "why not me?" Alexander believes.  Confidence is not asking 'why me?' and opening the door to doubt and fear, but it is asking, 'why not me?' and opening the door to high performance.
Developing your own Fearless Mind
Just as becoming an IronMan champion does not just happen, high performance does not fall into anyone's lap. It only comes through hard work over time, and not just mindless hard work, but work that is precise and exact.  Cultivating a fearless mind will help anyone achieve whatever he or she sets out to accomplish. The Fearless Mind program is specifically designed to help anyone in any field cultivate a fearless mentality and reach high performance.  For more information and to sign up to The Fearless Mind program click here.