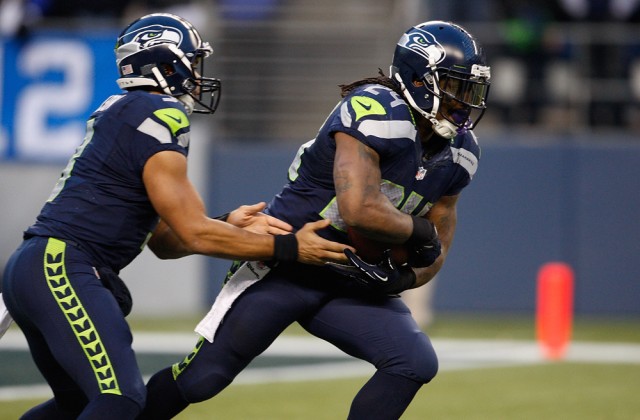 The Seattle Seahawks are in the NFC Championship. Looking back several years the Seahawks is now a completely different team, with new star players like Russell Wilson, and a new head coach, Pete Carroll, and most importantly a new MINDSET.
Carroll has reshaped the mindset of the whole organization from the foundation up. Starting in camp this last August one of the first mental practices implemented by Carroll in preparation for the upcoming year was bringing in a high-performance sport psychologist to work with the team.
"I talk to guys on other teams, and other teams aren't like this. We do stuff different here," Carroll says and so does everyone else on the Seahawks.
The Seahawks do have some amazingly gifted athletes, but so does every team in the NFL. What is the difference? The mindset. With all things being equal, the mentally tough win every time.
What is the Mindset of the Seahawks?
Russell Wilson explained: "I truly believe in positive synergy, that your positive mindset gives you a more hopeful outlook, and belief that you can do something great means you will do something great. I believed that before I got here, and the crazy thing is, Coach Carroll and our football team believe it too."
Being positive has been built into the DNA of the Seahawks organization. At camp you would hear players saying things you usually don't hear at an elite football practice. For example, intense drills will end with players pulling each other up saying, "Stay positive," or "put yourself into a mindset of greatness."
"We just want to keep it positive—always," says cornerback Walter Thurmond.
Leader of the team and quarterback Russell Wilson sets the example of building an elite mindset. Every week Wilson meets with the high-performance sports psychologist. "We do imagery work and talk about having that innovative mindset of being special," Wilson says. "We talk about being in the moment and increasing chaos throughout practice, so when I go into the game, everything is relaxed."
How to develop a Mindset like the Seahawks
Training- The Fearless Mind resource center includes 10 weeks of mental strength training videos that teach how to develop a positive and success oriented mindset. (if you are not signed up to the resource center you can do so today by clicking HERE)
Practice- Apply the mental principles you learn by writing down an objective, and plan each day. Then go back and evaluate the day by writing down what you did well, and one thing you will do better in the future. In the resource center and the smart phone app you can use The Fearless Mind journal to practice mental skills
Stay Positive- Always focus on the good, and what you are doing well. We develop skills much quicker when we focus on what we do well rather on focusing on what we are doing wrong. This is one of the secrets the Seahawks use to become one of the best teams in the NFL
Keep Going- You cannot just develop a winning mindset like the Seahawks and be done with it. High Performance is a continual process. Keep working as you improve your mindset. Continual mental training, practice, and staying positive are the keys to high performance. True high performers know that they never have arrived
The Fearless Mind resource center is a critical mental tool for any individual wanting to improve their performance in athletics, business, or personal achievement. Each subscriber gets over 32 individual mental training videos, access to the Mental Strength Journal, the statistics page, and The Zone, a special area with exclusive video content uploaded weekly all for only $20 a month. Click here to sign up