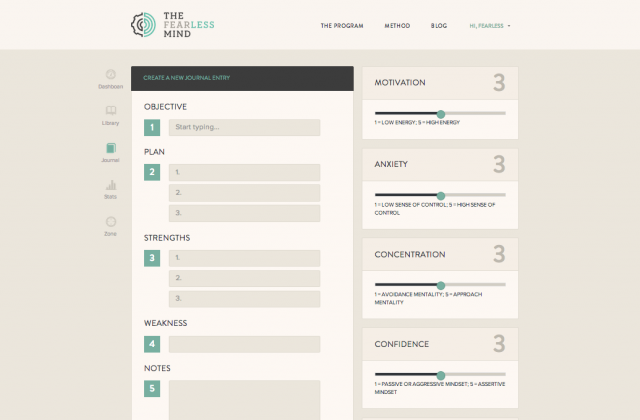 The Fearless Mind Mental Strength Journal was designed by Dr. Manning for any individual in their athletic, professional, or personal lives to overcome challenges and reach their goals.
Enter Dr. Manning:
I was meeting with a young up-and-coming athlete, and as she progressed to the point of competing against some of the best athletes in the world in her sport she had some big challenges come up in her life. They were challenges that had nothing to do with her athletic endeavors, and to add to that she suffered a season ending injury. She required surgery and a long period of recovery ahead of her. The injury put her off significantly going into an olympic year.
Despite her challenges she worked hard and recovered rapidly to the pleasure of her coaches. Everyone was excited for her prospects that upcoming year.
When I sat down with her I asked, "What is signally the most important thing you've done to to help you with this recovery and overcoming all your challenges?"
She answered quickly without hesitation showing me that her mind was in the right place and she was dialed in. She told me, "Being strict about using the Journal." She went on saying that the journal was critical in overcoming her personal challenges and her injury.
"When I use that journal I am so much more focused everyday," she explained. "I feel like I am in control of my own life's destiny."
She pointed out the importance of steps 3 and 4 in the journal: "Particularly the '3-to-1'. When I evaluate 3 things I do well, I'm constantly looking at what I'm doing well and what's going well in my life and other people's lives. Instead of looking at what's going wrong. In contrast to where I was 6-8 months ago, it's amazing the difference it's made."
Consistently using the journal is the key to making a difference in our lives. "I'm using it everyday. Seven days a week," she told me. "I use it all the time. That is the key for me to get back as quickly and as strong as I am. I'm just feeling so more free. I feel like I am in control of my life."
I love that!
The Mental Strength Journal it is a tool. It's a tool to help us do research on our own performance and our own life. If we discipline ourselves to use the journal it is amazing what it can do for us.
Application:
Use The Mental Strength Journal in The Fearless Mind resource center everyday. As you do you will begin to feel more in control of your life
Focus on completing steps 3 and 4. Doing so will help you focus on the positive aspects of each day motivating you to work harder and be happier
Remember, the resource center will keep all your entires on record so you can look back as you research your own performance. Approach the Journal as a tool to do research on yourself
The Fearless Mind resource center is a critical mental tool for any individual wanting to improve their performance in athletics, business, or personal achievement. Each subscriber gets over 32 individual mental training videos, access to the Mental Strength Journal, the statistics page, and The Zone, a special area with exclusive video content uploaded weekly all for only $20 a month. Click here to sign up