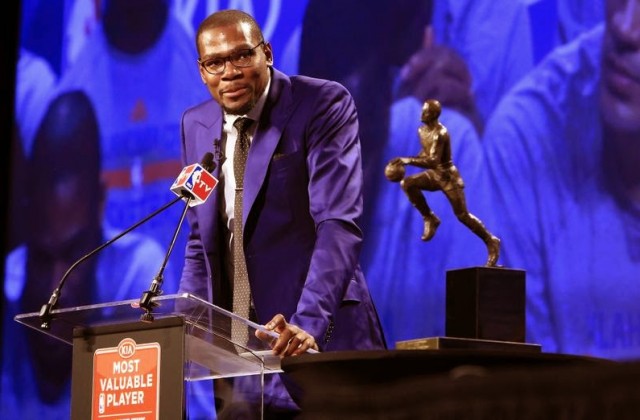 Recently I was watching the MVP speech of Kevin Durant. My wife and I both think highly of Kevin Durant as a person and player. To the both of us it was evident that he loves the game of basketball. There were so many things that we can learn about high performance from his speech, but I'll focus on just one today.
Doing Something Because We Love It
A few minutes into his speech, Kevin Durant said "In the game of basketball I play first off cause I love it. I love to have fun. I love to run up and down the court." He also said his goal growing up was to be a rec league basketball coach. Love is at the core of why Kevin Durant is so good. If we want to reach our full potential, we must really love what we are doing. Do you believe that Kevin Durant would be where he is today if he didn't love what he was doing? I believe he wouldn't. Can we be good at something that we don't love? Sure we can be good, but reaching full potential comes through doing that which we love.
Another example of the importance of doing what you love is from a man named Hal Eyring. Among his accomplishments are attending Harvard Graduate School, becoming a tenure professor at Stanford University, and becoming the president of Ricks College in Idaho. This particular story helped me to understand why it is important to do something that we love. Hal was studying chemistry with his father who was a renowned chemist. Here is the story from Hal's perspective:
"My father was at a blackboard we kept in the basement," Hal Eyring recalls. "Suddenly he stopped. 'Hal,' he said, 'we were working at this same kind of problem a week ago. You don't seem to understand it any better now than you did then. Haven't you been working on it?' "
I admitted I had not. "You don't understand," my father went on. "When you walk down the street, when you're in the shower, when you don't have to be thinking about anything else, isn't this what you think about?"
"When I told him no, my father paused. It was really a very tender and poignant moment, because I knew how much he loved me and how much he wanted me to be a scientist. Then he said, 'Hal, I think you'd better get out of physics. You ought to find something that you love so much that when you don't have to think about anything, that's what you think about.' "
(Source: https://www.lds.org/prophets-and-apostles/what-are-prophets/bio/henry-b-eyring?lang=eng)
I believe that last sentence speaks so much truth about doing what we love. Love for something isn't a forced thing. It isn't what somebody else wants us to love—rather it is personal only to us.
When we love what we do, we have a high attention to detail. Professional triathlete Craig Alexander said, "If you find something you love to do you're going to work at it and it's not going to feel like work."
Love is the greatest motivator and can carry us through the hardest and easiest times.
Loving what we do helps us to focus on the task. In the past couple months I started playing tennis with my wife. I played a handful of times growing up and I never developed any skill in the game. What we have both noticed is we play at our best when we're having fun. Rather than focusing on the outcome, we focus on enjoying the journey of getting better because we love what we are doing. The competition becomes with ourselves rather than others.
Take-away
Applying the science from The Fearless Mind is going to make you believe it. You can't just read about it. In the journal, focus on step 2. Focus on task and let the outcome take care of itself. Enjoy the journey and deepen your love for what you are doing.
About the author:
Eric Thornton first started to work with Dr. Manning in 2012 as a part of the BYU football team. He has both taken and assisted Dr. Manning's university course on performance psychology. Eric is currently implementing his knowledge from The Fearless Mind doing a marketing/sales internship in Salt Lake City, Utah before returning back to BYU for fall classes. Eric loves playing sports, and applying Fearless Mind principles to every area of his life. He can be followed on twitter at @ericthornton88
The Fearless Mind resource center is a critical mental tool for any individual wanting to improve their performance in athletics, business, or personal achievement. Each subscriber gets over 32 individual mental training videos, access to the Mental Strength Journal, the statistics page, and The Zone, a special area with exclusive video content uploaded weekly all for only $20 a month. Click here to sign up The Fearless Mind also offers personal mental strength coaching. To inquire about getting a Fearless Mind coach to work with you personally click here: http://thefearlessmind.com/personal-coaching/